Small Business Development Center Success Stories
The SBDC is proud to have helped many small businesses in our community to get their start. Here are some of our favorite highlights and success stories!
---
Eagle Aviation Services, LLC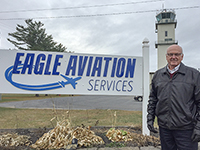 Eagle Aviation Services, LLC was formed in 2018 in direct response to Clinton County's Fixed Based Operations (FBO) contract request for proposal. Eagle Aviation's management team, led by Russ Lawliss, had operated, and managed FBOs but this was Mr. Lawliss' first foray into small business ownership. Eagle Aviation LLC was chosen by the Clinton County Legislature to be the new Fixed Base Operator (FBO) for the Plattsburgh International Airport. The company was awarded a six figure contact and saved 18 jobs. Led by former FBO General Manager of nine years, Russ Lawliss, the company is poised to deliver quality services at a competitive price.

ECONOMIC IMPACT: $255,000 & 18 jobs
"Advisor Tony and the SBDC's assistance and support throughout the startup process was excellent. I was thankful to have such a great resource readily available. The SBDC definitely made the startup much easier."
---
RA White Construction Inc.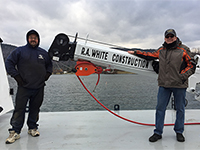 RA White Construction Inc. has been in business for over 30 years providing custom construction services for residential, commercial and boat docks. Rick came to the SBDC for assistance in expanding his on-shore business to include on-water dock and construction. He needed to secure funding to construct the barge. Additionally, he wanted a better understanding of regulations relating to floating construction barges on Lake George.
Advisor Tony Searing reviewed a business and financial plan with the client. The SBDC's Research Network provided information on current Federal, VT and NY state regulations for construction barges on inland lakes and federal waters. The client designed and constructed his own barge and successfully launched the vessel into Lake George on December 5th, 2018. With the SBDC's assistance the client was able to secure a bank loan, expand his business and create 7 new jobs in a rural underserved region.

ECONOMIC IMPACT: $170,000 & 7 jobs

"Advisor Tony Searing and the SBDC's Research Network were very helpful in assisting me with my business expansion! I was able to get direct and clear information that isn't always available on the internet. I would definitely recommend the SBDC to other business owners."
---
Bain's Sunoco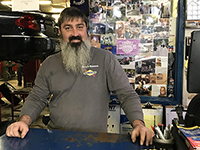 Charles Bain worked as a mechanic at the Ticonderoga Sunoco gas station for 15 years. When his boss decided to retire he asked Charlie if he would be interested in buying the business. Charlie came to the SBDC for assistance in testing the feasibility of buying the local gas station where he worked. Once he decided to move forward, he also requested assistance with a business plan and financial projections to secure funding. Unfortunately, during the environmental review process, the DEC required additional monitoring of an underground tank for three years which halted all bank and IDA funding options. Fortunately, Mr. Bain was able to secure owner financing to take over the business sooner.
Advisor Angela Smith helped the client prepare a well-rounded business plan with ProForma projections. She also helped the client understand the different funding sources available including owners financing. Charlie Bain was able to negotiate directly with the land and business owners who agreed to hold paper on the project. The business plan and financials helped demonstrate that the business could repay the loans from profits. Charlie and April Bain helped to save 7 local jobs and created 3 new ones.

ECONOMIC IMPACT: $534,000, 7 jobs saved and 3 jobs created
"Buying the business was a very challenging experience. Angela was by our side every step of the way. Her cheery, calm demeanor helped make the experience less daunting."
---
Integrated Aquatic Sciences, LLC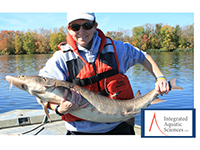 Integrated Aquatic Sciences, LLC provides consulting services to clients in both the public and private sector. Services include fish community evaluations and fisheries management, water quality monitoring and habitat assessment and restoration. Principal Scientist and Owner, Margaret H. Murphy, Ph.D. is a Certified Fisheries Professional through the American Fisheries Society with over 20 years in the field. Margaret met with advisor Smith to review startup steps and to register with Bidlinx - a NYS SBDC government contract bid-matching service.

ECONOMIC IMPACT: $4,000 and 1 job created.

"Angela's cheery, calm demeanor made the startup process less daunting. I was thankful to have such a great resource readily available. The SBDC definitely made the start-up much easier!"
---
Salt of the Earth Bistro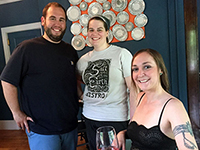 Andrea came to the SBDC seeking advice on purchasing the restaurant where she worked. After gathering all the facts she decided to open her own eatery. Securing funding for a start-up restaurant is always challenging. Andrea worked with business advisor Mark Dame who assisted with her business plan, formulating financials, analyzing locations, building and zoning issues, and helped identify multiple funding sources. As a result of working with the SBDC, Andrea was able to secure loans from a local bank, Essex County IDA, and private investors in addition to her own investment.

ECONOMIC IMPACT: $355,000 and 8 jobs created.
"A huge thank you to the North County SBDC!! Without all of their help and support, our doors would not be open today! An invaluable resource for our community! Special thanks to our advisor Mark Dame. If you have an idea for a business, GO SEE THEM!!"
---
Dick's Collision, LLC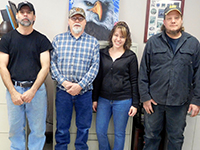 Dick's Collision, LLC is a full-service auto body shop located in Plattsburgh. The clients were referred to the North Country SBDC by KeyBank to assist four employees wanting to buy the business from the current owner who was planning to retire. The bank required a detailed business plan and three years of financial projections to complete the SBA loan application. Joanie Spooner worked with director Karen Stehlin to complete the required documents. Karen also coordinated efforts between the clients, the bank and the attorney to keep the project moving forward. The four employees are now the new owners and are ensuring continuity of this local business.

ECONOMIC IMPACT: $1.3M and 10 jobs saved.

"I absolutely loved working with Karen Stehlin at the SBDC. She gave me a sense of ease through the process of acquiring the business. She helped us complete the numerous documents required by the bank and kept us on track. I would recommend the SBDC to anyone buying a business."
---
Black Rooster Maple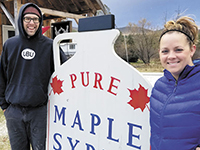 Engineer turned maple farmer produces pure Adirondack maple products including a famous apple brandy infused maple syrup using kegs from a local distillery. Kirk and Kristy Bassarab came to the SBDC for assistance to identify sources of funding to replace inefficient processing equipment, build a larger sugarhouse, and increase maple taps. Business advisor Angela Smith helped them to developed a business plan and financial projections to secure an SBA guaranteed loan with Community Bank as well as a NYS New Farmer Grant.

ECONOMIC IMPACT: $158,000 and 2 jobs.

"Without the professional, prompt, and incredibly knowledgeable assistance that Angela provided to us during our business plan development, we would never have obtained loan or grant funding for our sizable expansion project. Thank you, Angela!!!"
---
WhistlePig, LLC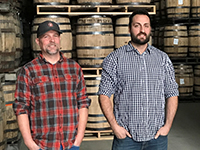 WhistlePig Rye Whiskey is a farm-based distillery in Shoreham, VT that produces premium rye whiskey with a "grain to glass" operation. Every step in the process – from growing the grain to bottling the finished product – takes place on the farm.

In 2016, WhistlePig, LLC was contemplating a second operation site that would enable the company to keep up with its rapid rate of growth. The new location had to be located outside of Addison County VT as current laws limit commercial activity on farms. Company management hoped the regulatory environment in New York State would be more favorable. They were referred to the SBDC by the Ticonderoga Area Chamber and Essex County IDA. Advisor Angela Smith worked with the client to identify required state regulations and permits and helped cut through red tape by reaching-out to partners. She identified incentives for the project that resulted in a $350,000 tax credit offer from ESD's Excelsior Jobs Program. Ultimately, WhistlePig selected the Moriah Business Park in Mineville, which brought significant investments and new jobs to a rural, underserved community. To date, WhistlePig has invested $2.5 million in equipment and new infrastructure and created 4 jobs through its new holding company Moriah Ventures, LLC. By 2019, the company expects to add a distilling and bottling plant. The success of this project was the result of collaborative efforts between multiple New York State agencies.

ECONOMIC IMPACT: $1.5 million and 4 jobs
"We were impressed by the rapid response we received from the SBDC. Their involvement early on helped us decide to do business in New York State."
Make an appointment for counseling:

Call (518) 324-SBDC or use our online form.