Douglas Library
For more information regarding the library's resources and services during the COVID-19 pandemic, including instructions for curbside pick-up, please see our new COVID-19 Libguide.
FIND EVERYTHING YOU'RE LOOKING FOR...
MOVIES, MEDIA & MORE
LIBRARY SERVICES & INSTRUCTION
Location
Moore Building,
Learning Commons space,
past the Tutoring Center,
Room 213M.
Hours
In an effort to keep our campus safe, the library is currently closed until further notice.
Ask Us 24/7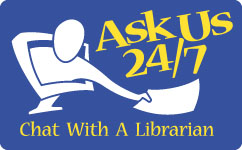 On or off-campus...get research help now!
Contacts
Please feel free to email the library during this closure at douglas.library@clinton.edu
If you can't email, we ask that you call us at:
Circulation Desk
518-562-4241
Staff