Clinton Community College Welcomes Steven G. Frederick Back as Vice President of Institutional Advancement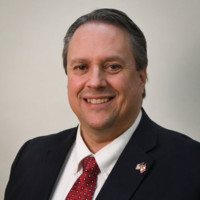 Clinton Community College is excited to announce the return of Steven G. Frederick as the Vice President of Institutional Advancement. Steve is rejoining the college after an enriching stint as the VP for Development at Paul Smith's College. He brings with him a wealth of experience and knowledge that will undoubtedly propel CCC's fundraising efforts to new heights.
During his prior 18-year tenure as Vice President of Institutional Advancement at Clinton Community College, Steve played an instrumental role in fostering a culture of philanthropy and establishing successful fundraising initiatives. His contributions and dedication have been pivotal in advancing the college's mission and supporting its growth.
Steve's time at Paul Smith's College allowed him to refine his expertise in philanthropy and learn the significance of leveraging data and metrics to optimize fundraising outcomes. His experience has equipped him to spearhead focused fundraising campaigns and initiatives tailored to CCC's unique needs.
"I am thrilled to be back at Clinton Community College," said Steve Frederick. "Working at Paul Smith's College was an invaluable professional development opportunity. I am now equipped with a fresh perspective and a deeper understanding of fundraising strategies. I look forward to utilizing this knowledge to further enhance the college's efforts in advancing its mission."
In his return to Clinton Community College, Steve will oversee several crucial departments, including the CCC Foundation, Alumni Association, College Relations, Government Relations, and lead the new business development efforts for the Institute for Advanced Manufacturing (IAM). His leadership and vision will be instrumental in building upon the college's past successes and driving its mission forward.
President John Kowal expressed his enthusiasm for Steve's return, saying, "We are delighted to welcome Steve back to CCC in this critical leadership position. Over the past 18 years, he has been instrumental in elevating the role of Vice President of Institutional Advancement, and we have no doubt that he will continue to take this critical position to even greater heights."
Steve's academic achievements include earning both his bachelor's and master's degrees from SUNY Plattsburgh. He is also a distinguished graduate of the SUNY Leadership Academy. His exceptional contributions to the field of institutional advancement have been recognized by the State University of New York Council for University Advancement (SUNYCUAD), as he was inducted into their Hall of Fame. Additionally, he was honored with the SUNY Chancellor's Award for Professional Service.
Beyond his professional accomplishments, Steve is an active member of the Plattsburgh Noon Rotary Club, where he served as a past president, earned Rotarian of the Year, and holds the prestigious title of Paul Harris Fellow. Currently, he serves as a trustee on the WH Miner Agricultural Research Institute and the Bruce L. Crary Foundation, further showcasing his dedication to the community.
With Steve's return, Clinton Community College is poised to continue its trajectory of success, providing exceptional educational opportunities, and enriching the lives of its students and community.