Two Community Colleges Partner with UVM for New Surgical Technology Program
This fall semester has brought a significant development in the field of healthcare education, with the launch of an exciting and transformative program. Clinton Community College, in collaboration with Mohawk Valley Community College and the University of Vermont Health Network, has been proud to introduce a pioneering initiative in Surgical Technology. This program presents a unique opportunity for individuals already working in the healthcare setting to pursue a rewarding career in Surgical Technology, further enhancing access and quality care in Northern New York.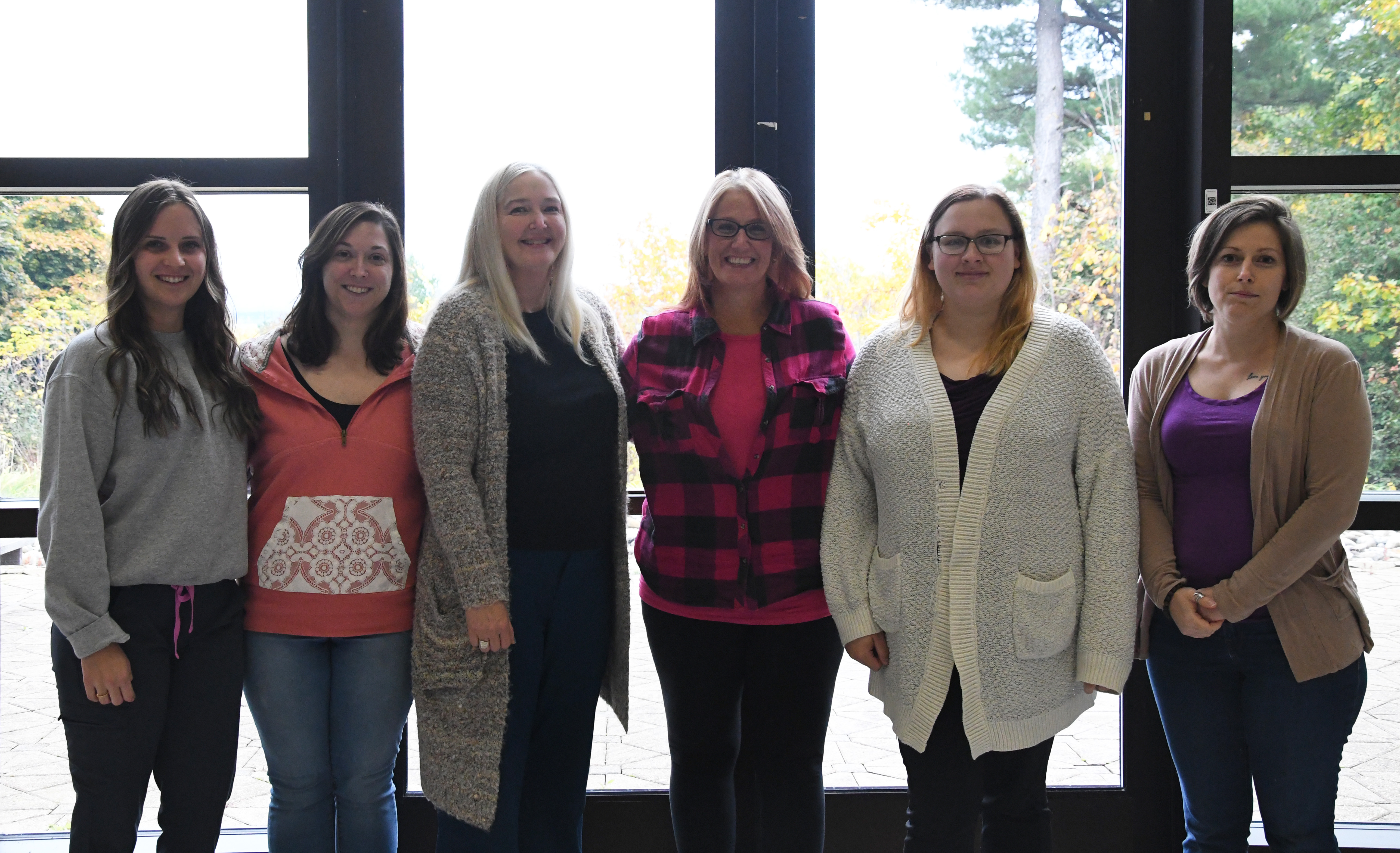 2023 Surgical Technolgy Students From left to right: Jenna LaValley, Jessica Fessette, Mattie Hattier, Lisa Pecor, Natosha DeLisle, Melissa Ashline
The Surgical Technology program is a joint venture between these esteemed institutions, designed to encourage individuals who aspire to enhance their skills and have an opportunity to expand their horizons in the healthcare industry. Students in this program are dually enrolled in Clinton Community College and Mohawk Valley Community College, where they undergo a comprehensive and multifaceted education, combining classroom learning, online courses, hands-on labs, and invaluable clinical rotations within the UVM Health Network. This hybrid approach, which blends online and in-person classes, ensures students receive a well-rounded and practical education, perfectly tailored for the demands of the healthcare field.
The students in this program are being trained to take their place as vital members of surgical teams, working in close collaboration with surgeons, registered nurses, anesthesiologists, and various other healthcare professionals. Their responsibilities include surgical patient preparation and transport, operating room setup, and the organization of surgical equipment. Simultaneously, these dedicated students continue to work at their respective facilities with the UVM Health Network supporting them with their ongoing education, while also paying the students their full-time wages and benefits while they attend school. The students are able to "learn while they earn".
Upon graduation, these students will be fully prepared to embark on careers as entry-level Surgical Technicians/Technologists, playing an integral role in operating room suites, assisting in the preparation of supplies, and delivering top-notch care to surgical patients. This program is unique in that it allows students the opportunity to sit for the National Board of Surgical Technology and Surgical Assisting (NBSTSA) certification exam. Successful completion of this exam results in the credential of certification of surgical technologists (CST), recognized in all states. This credential opens the doors for graduates to explore diverse and fulfilling career opportunities within the healthcare sector.
The Surgical Technology program has already made a profound impact on the lives of its students. Jenna LaValley, one of the program's participants, shared her experience, saying, "I decided to apply for the program because I knew I wanted to further my career at CVPH and continue to grow as an individual; this was a great opportunity for me to do so." Jessica Fessette, another student in the program, stated, "I chose the surgical technologist program because it's an amazing opportunity to be offered. I have worked for CVPH for 12 years and have always wanted to advance myself in the healthcare field, but life never allowed me to. This program does. I love patient care but have always wanted more, and now there is the opportunity for that."
The Surgical Technician Program is the latest in a series of strategic initiatives by the UVM Health Network, demonstrating the organization's commitment to workforce development and the advancement of healthcare professionals in the region.